In a surprising twist, Erling Braut Haaland signed on with Borussia Dortmund, rather than any other clubs, despite some of them offering more lucrative deals. What is the secret behind this decision, who is to blame, and what can we expect from Braut in the upcoming matches?
The Flight for Nothing
Ole Gunnar Solskjaer flew to Salzburg in December of 2019 to try and secure the transfer of Erling Braut Haaland to Manchester United. The deal, supposedly, was to be worth 20 million euros. This was a reaction to some of the other offers the player had received, including Borussia Dortmund and Red Bull Leipzig. Haaland, represented by Mino Raiola, instead choose to try his luck with Borussia Dortmund. What's surprising about all this is that the player signed on with Dortmund for 18 million euros. Ultimately, Man United failed to get this amazing young striker and the 19-year-old went on to achieve great things in Dortmund.
Why the Move?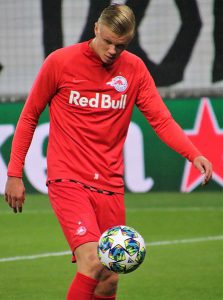 There were several factors that, reportedly, played a part in the player's choice. Many attribute the controversial decision to Haaland's father, Alf-Inge Haalan, who is a former footballer himself. Several reports indicate that Haalan Senior wanted his son to play in the German leagues, rather than the highly competitive Premier League. The reason behind this is the attempt to secure regular matches for Erling Braut, instead of risky games he would face in the Premier League.
Others believe that the main reason Haaland went with Dortmund is the influence his agent, Mino Raiola, has over the player, though he negated the rumors and reports, stating that Haaland simply did what made him happy. Finally, Erling Braut Haaland himself was reported saying that he really wanted to try his luck with Dortmund and couldn't wait to get started.
Is There Bad Blood?
While the potential contract with United would have been worth 20 million euro, it is reported that one of the snags in the deal was the clause Raiola insisted on – the 40 million pounds buyout clause. To clarify, this would mean that, if Haaland were to find a more lucrative offer, but the team would not be inclined to give him up, the interested party could still fork over 40 million pounds and get him regardless of what the owning club does.
Some people speculate that this and other power moves by Raiola have made Manchester United very careful in their hunt for Haaland, though the agent quickly disputed any rumors of bad blood between himself and the team.

What is Erling Currently Doing?
It seems that Dortmund has really struck oil with Haarland, as the striker managed to score two goals against Cologne and a hat-trick against Augsburg. This, essentially, means that Haarland managed to score five goals within an hour of playing in Bundesliga, which broke a record in the league.
This is especially surprising as the transferring players usually need some time to get accustomed to their new team. As the contract with Dortmund is said to expire in 2024, along with the current performance given by the striker, we expect that he will not be leaving the club for a very long time.